Books
The Playful Citizen now available open-access at AUP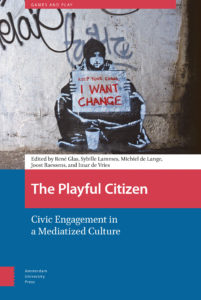 Amsterdam University Press has published the edited volume "The Playfule Citizen: Civic Engagement in a Mediatized Culture". For more information, click here.
In the last decade, digital media technologies and developments have given rise to exciting new forms of ludic, or playful, engagements of citizens in cultural and societal issues. From the Occupy movement to playful city-making to the gameful designs of the Obama 2008 and Trump 2016 presidential campaigns, and the rise of citizen science and ecological games, this book shows how play is a key theoretical, methodological, and practical principle for comprehending such new forms of civic engagement in a mediatized culture.
The Playful Citizen explores how and through what media we are becoming more playful as citizens and how this manifests itself in our ways of doing, living, and thinking. We offer a pluralistic answer to such questions by bringing together scholars from different fields such as game and play studies, social sciences, and media and culture studies.
The book has been published open-access and can be downloaded at https://www.aup.nl/en/book/9789048535200/the-playful-citizen.
"A completely innovative aspect is the agenda of analyzing media and citizenship in contemporary culture through the lens of play. Media studies, game studies, and cultural studies will benefit from this, as will political practice." – Mathias Fuchs, principal investigator at the Centre for Digital Cultures at Leuphana University Lüneburg, editor of Rethinking Gamification
"What a splendid edited collection, a thoughtful and well-researched anthology that both summarizes the state of the art at the intersection between play and political theories, and presents insights on future lines of research." – Miguel Sicart, professor at the IT University of Copenhagen, author of Play Matters