Books
Magazine Game Research – Games that Change your Mind now available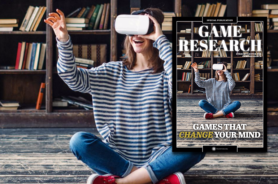 The Utrecht Center for Game Research launched a magazine highlighting several research projects and researchers in the field of games.
The center started in 2014 to develop an integrated approach to to scientific and social questions by linking academic excellence and fundamental research to the university's societal mission. In the magazine the center presents an overview of the work the researchers have done over the past four years. They have invested not just in research but also in a broad field of game-related education and in collaborative efforts with partners in government, business, society, and other universities.
You may read the magazine Game Research – Games that Change your Mind, either online, or download the high-res (60 MB) PDF file. If you would like a physical copy of the magazine, please contact gameresearch@uu.nl.