General
Joost Raessens travels to China to establish connections among possible partners in the field of serious gaming
Joost Raessens recently visited Beijing (China) in order to establish connections among possible partners in the domain of creative industries (universities, academies, companies), particularly in the field of serious gaming.
International Collaboration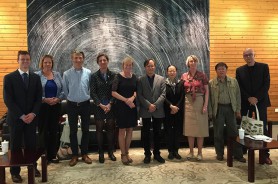 The initial reason for this trip was the Chinese-Dutch Joint Scientific Thematic Research Programme (JSTP), an NWO research programme that enables bilateral collaboration between research groups within the field of the creative industries. A delegation of Dutch academics, the Netherlands Organisation for Scientific Research (NWO), the Royal Netherlands Academy of Arts and Sciences (KNAW), and the Embassy of the Kingdom of the Netherlands in Beijing visited, among others, Tsinghua University (Academy of Arts & Design), the Central Academy of Fine Arts (CAFA), and several fashion and gaming companies. As part of the Beijing Design Week 2015, Prof. Dr Anneke Smelik (Radboud University Nijmegen), Prof. Dr Eric Postma (Tilburg University) and Prof. Dr Joost Raessens (Utrecht University) presented their research on fashion, artificial intelligence and persuasive gaming at The Nurturing House, a creative industries hub sponsored by the Dutch Embassy.
An Answer to Urgent Problems
The creative industries are booming in China. Especially media (digital media, including games, film and television), art (museums, photography and cultural heritage) and design (fashion, architecture and urban environment) are important clusters within China's growing cultural industries. According to the Beijing Official Guide, the creative industries are Beijing's second economic pillar industry, just after the finance sector. Because of China's growing youth culture, (online) games take up a prominent position. Serious games can help solve China's urgent problems in the areas of, for example, healthcare, (future) food, energy, sustainability, and urbanization.